Birth plans and health insurance enrolment of pregnant women: a cross-sectional survey at two secondary health facilities in Lagos, Nigeria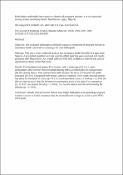 Abstract
Objective: We evaluated birth plans and health insurance enrolment of pregnant women at secondary health care level as a strategy for post-2015 goals. Methods: This was a cross-sectional study at two secondary health facilities in Lagos state, Nigeria. A pre-tested questionnaire was used to collect data that were analysed and results presented with frequencies. An overall estimate with 95% confidence interval was used at significant p values of less than 0.05. Results: Five hundred and twenty-four women, with a mean age of 3 0±4.1 years, participated. Most women chose hospital delivery (84%) and had plan for transportation (86.3%) during labour. Few women were well prepared for birth (9.7%) and had health insurance (10.1%). Compared with women without insurance, more health-insured women had plans for transport in labour (p = 0.1383) and identified a place of birth (p = 0.2294), but did not have as much plan for someone to accompany them in the case of an emergency (p = 0.3855) and donate blood (p = 0.5065). Few health insured women saved money for delivery (p = 0.7439). Conclusion: Health insured women did not have better birth plans and expanding pregnant women's access to health insurance may be an insufficient strategy to achieve post MDG 2015 goals.
Keywords
Maternal mortality
,
Near-miss
,
Severe maternal outcome
,
Birth plans
,
Research Subject Categories::MEDICINE
Citation
Okusanya BO, Roberts AA, Akinsola OJ, Oye-Adeniran BA. Birth plans and health insurance enrolment of pregnant women: a cross-sectional survey at two secondary health facilities in Lagos, Nigeria. J Matern Fetal Neonatal Med. 2016 Aug;29(16):2602-6. doi: 10.3109/14767058.2015.1094790. Epub 2015 Oct 20.