Epidemiological African day for evaluation of patients at risk of venous thrombosis in acute hospital care settings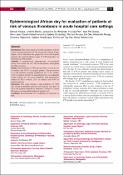 Publisher
Clinics Cardive Publishing (Pty) Ltd
Abstract
INTRODUCTION: This study aimed to identify patients at risk for venous thromboembolism (VTE) among all patients hospitalised, and to determine the proportion of at-risk hospital patients who received effective types of VTE prophylaxis in sub-Saharan Africa (SSA). METHODS: A multinational, observational, cross-sectional survey was carried out on 1 583 at-risk patients throughout five SSA countries. RESULTS: The prevalence of VTE risk was 50.4% overall, 62.3% in medical and 43.8% in surgical patients. The proportion of at-risk patients receiving prophylaxis was 51.5% overall, 36.2% in medical and 64% in surgical patients. Low-molecular weight heparin was the most frequently used prophylactic method in 40.2% overall, 23.1% in medical and 49.9% in surgical patients. DISCUSSION: This study showed a high prevalence of VTE risk among hospitalised patients and that less than half of all at-risk patients received an American College of Clinical Pharmacy-recommended method of prophylaxis. CONCLUSION: Recommended VTE prophylaxis is underused in SSA.
Keywords
Venous thromboembolism
,
In patients
,
Africa
,
Risk
,
Prevalence
,
Research Subject Categories::MEDICINE
Citation
Kingue S, Bakilo L, Ze Minkande J, Fifen I, Gureja Y, Razafimahandry HJ, Okubadejo N, Mvuala R, Oke DA, Manga A, Rajaonera T, Nwadinigwe C, Pay Pay E, Rabearivony N. Epidemiological African day for evaluation of patients at risk of venous thrombosis in acute hospital care settings. Cardiovasc J Afr. 2014 Jul-Aug;25(4):159-64.
Collections