Antihypertensive pharmacotherapy in a developing economy: pattern, acquisition costs and conformity to international guidelines in a tertiary-care setting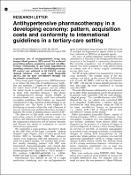 Abstract
Acquisition cost of antihypertensive drugs may hamper blood pressure (BP) control. We evaluated prescribing pattern, acquisition cost and cost-effectiveness relationship in 225 black hypertensives attending a tertiary clinic in a developing economy. BP control was achieved in 89 (39.6%), calcium channel blockers were used most frequently (28.4%), but the most cost-effective therapy was the diuretic co-amiloride.
Keywords
Hypertension
,
Pharmacotherapy
,
Antihypertensives
,
Guideline
,
Nigeria
,
Cost effectiveness
,
Blood pressure control
,
Research Subject Categories::MEDICINE
Citation
Amira CO, Okubadejo NU. Antihypertensive pharmacotherapy in a developing economy: pattern, acquisition costs and conformity to international guidelines in a tertiary-care setting. J Hum Hypertens. 2006 Nov;20(11):894-7.
Collections