THE COMMONEST ORBITO-OCULAR TUMOURS OF CHILDREN IN LAGOS STATE, NIGERIA.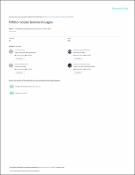 Publisher
Pioneer Medical Journal Umuahia
Abstract
The study was carried out as a ten (10) year review (January 1991 – December, 2000). A total of two hundred and ten orbito-ocular tumours were diagnosed, reviewed and analyzed at the Department of Morbid Anatomy of Lagos University Teaching Hospital Lagos, Nigeria. The study presented the total number of malignant orbito ocular tumours as one hundred and forty (67%) and the benign orbito-ocular tumours 70 (33%). Among the malignant tumours, retinoblastoma was the commonest orbito-ocular tumour and accounting for 26.2% (Table 1). These were compared with other major works conducted in other parts of Nigeria, Africa and the world. References were made to distribution by age, sex and geographical characteristics. The prevalence of these tumours in different populations and the differences found were noted. It was found that the commonest age at presentation of retinoblastoma was 0 – 4 years and the sex affected mostly was the female gender (Table 2). It is important to note that proptosis is the hallmark of the orbito ocular tumour as it is the commonest manifestation at first attendance, a fact which validates the late presentation of most of the patients. Objectives: To create awareness of the commonest tumour of the eye involving children and to inform the clinicians on the recent precautions /possible treatment modalities in our centre and other areas available. Methods: The study was a retrospective analysis spanning over ten years of children within 014 years seen in our Pathology department with orbito-ocular tumours. Results: Retinoblastoma was seen to be the commonest tumor in this study 55(26.2%) occurring at older age. It is more common in females than males with a ratio of 1.2:1.
Keywords
orbitoocular tumours, retinoblastoma and Children.
Citation
PMJUMU |Pioneer Medical Journal Umuahia | January - March, 2011