Early Ijebu History: An Analysis on Demographic Evolution and State Formation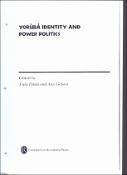 Publisher
University of Rochester Press
Abstract
This paper attempts a reconsideration of the current state of knowledge concerning Ijebu origins, and the establishment and character of the Ijebu Kingdom. The aim is two-fold. One is to highlight the distinction between demographic evolution and state formation, which are usually conceived as a single phenomenon in Yoruba oral historical traditions. In this way, the available sources on the subject can be examined from a more critical perspective. The paper adopts the application of linguistic evidence as providing more fruitful insights on the issue. The second point is to consider the nature of the state formation process in Ijebu. In doing this the paper relies substantially on anthropological evidence and ends with a suggestion that the kingdom was established in the last quarter of the fifteenth century.
Keywords
Agemo
,
Awujale
,
Idoko
,
Obanta
,
Oloja
,
Research Subject Categories::HUMANITIES and RELIGION::History and philosophy subjects
Citation
Oduwobi, Tunde (2006). "Early Ijebu History: An Analysis on Demographic Evolution and State Formation," in Toyin Falola and Ann Genova (eds.), Yoruba Identity and Power Politics, Rochester: University of Rochester Press, 145–158.