Hunger in the midst of plenty: A survey of household food security among urban families in Lagos State, Nigeria.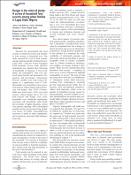 Publisher
Journal of Public Health in Africa
Abstract
Research has documented that food security at national level does not translate to food security at household level. The study assessed the level of food security among urban households in Shomolu LGA, Lagos State. Using the 9-item Household Food Insecurity Access Scale (HFIAS) information was collected from 306 heads of households on adequacy of food availability and consumption. Data were analyzed using Epi info and presented as frequencies and percentages. Associations between variables were tested using Chi square at a significance level of 0.05. Households were classified as food secure, food insecure without hunger and food insecure with hunger. Only 33.8% of households were food secure, 45.1% were food insecure without hunger and 21.1% were food insecure with hunger. Food secure households were statistically significantly associated with households where heads had secondary or higher education, women were married, spending <40% of household monthly income on food and living in their own homes (P=0.001). Household food insecurity is found in urban communities and is positively associated with indicators of poverty.
Keywords
Household food insecurity
,
Urban
,
Households
,
Lagos
,
Nigeria
Citation
Roberts AA, Osadare JO, Inem VA. Hunger in the midst of plenty: A survey of household food security among urban families in Lagos State, Nigeria. J Public Health Afr. 2019 Jun 19;10(1):885. doi: 10.4081/jphia.2019.885. eCollection 2019 May 3