The incidence, risk factors and determinants of perinatal outcome of umbilical cord prolapses in Lagos, Nigeria.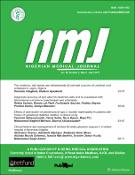 Publisher
Wolters Kluwer India Private Limited
Abstract
Background: Umbilical cord prolapse is an obstetric emergency which is associated with significant perinatal mortality and morbidity as well as long‑term handicap. Objectives: The objective of this study was to determine the incidence of cord prolapse, elucidate the risk factors as well as the fetal outcome at the Lagos University Teaching Hospital (LUTH). Design and Setting: A retrospective study at a tertiary care center in Lagos, Nigeria. Materials and Methods: A descriptive retrospective study of all pregnancies complicated by prolapse of the umbilical cord in LUTH from January 1, 2001 to December 31, 2010. Results: A total of 13,592 deliveries were conducted during the study period and 52 of which were complicated by cord prolapse at various cervical dilatations, thus giving an incidence of 3.8/1000 deliveries. Umbilical cord prolapses occurred commonly in women with multiple parities (51.9%), pregnancies with abnormal presentations (breech precisely) in 42.3%, abnormal lie in 30.8% with majority of the cord prolapse occurring after spontaneous membrane rupture (73.1%) while 26.9% occurred following amniotomy. Twenty‑nine (55.8%) cases occurred outside the hospital setting; 69.2% of the children affected were term. The mean diagnosis–delivery interval was 53.3 ± 25.5 min, and cesarean section was the mode of delivery in 84.6%. Twenty‑five percent of the children had Apgar score of ≥7 at the 1st min of life increasing to 69.2% at 5 min. The perinatal mortality was however 19.2%. Conclusion: Umbilical cord prolapse is associated with a significant perinatal mortality in this study, especially in those with spontaneous rupture of membranes that occurred outside the hospital setting.
Keywords
Incidence, Nigeria, perinatal outcome, risk factors, umbilical cord prolapse