Recent Developments in the Management of Diabetes Mellitus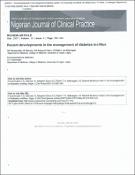 Abstract
The prevalence of diabetes is assuming epidemic proportion. Diabetes mellitus is the commonest endocrine condition seen in medical practice. Unfortunately, large proportion of practitioners are not well informed about the current trends in the management of this condition. This article attempts to assist the practitioners.
Keywords
Diabetes Mellitus
,
management of diabetes
,
Drugs
,
Research Subject Categories::MEDICINE
Citation
Niger J Clin Pract 2007; 10(4): 335-342.
Collections