Maternal knowledge, attitude and compliance regarding immunization of under-five children in primary health care centers in Ikorodu local government area, Lagos state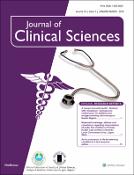 Publisher
Journal of Clinical Sciences
Abstract
Introduction: Immunization is one of the most successful and cost‑effective public health interventions, saving the lives of 3 million children annually. One‑third of the deaths among under‑fives are preventable by vaccines. This study aimed to assess the knowledge, attitude, and compliance of mothers regarding immunization of under‑five children in Ikorodu Local Government Area, Lagos State. Subjects and Methods: A cross‑sectional descriptive study was carried out among 250 mothers of under‑five children at health centers in Ikorodu selected by multistage sampling. An interviewer‑administered questionnaire was used as the survey tool. Data were analyzed using Expanded Program on Immunization – Info Version 7.1.1.14. P < 0.05 was considered statistically significant. Results: All respondents were aware of immunization, more than half (72%) of them had good knowledge about the immunization of under‑five children, all the mothers (100%) had a positive attitude toward immunization and a majority (86.4%) of the respondents had fully immunized their children. There was a statistically significant association between the mother's age, occupation, level of education, nature of the family and the level knowledge of the respondents. There was also a statistically significant association between the mothers' age and occupation and their compliance with the immunization of their children. Conclusion: Most mothers had good knowledge, a positive attitude and good practice towards immunization. Maternal age, education, and hence their occupation were important factors for good knowledge and practice towards childhood immunization. The education of women, thus delaying marriage, remains a key factor in ensuring child survival through immunization.
Keywords
Ikorodu
,
Immunization
,
Measles
,
Mothers
,
Research Subject Categories::MEDICINE
Citation
Adefolalu OA, Kanma-Okafor OJ, Balogun MR. Maternal knowledge, attitude and compliance regarding immunization of under-five children in primary health care centers in Ikorodu local government area, Lagos state. Journal of Clinical Sciences 2019; 16:7-14.