Reading the Diary of Akinpelu Obisesan in Colonial Africa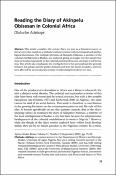 Abstract
This article considers the private diary not just as a historical source or literary text, but mainly as a symbolic cultural creation with sociological and psychological dimensions. The multiple identities of Akinpelu Obisesan, a member of the colonial intelligentsia in Ibadan, are analyzed, giving us insight into the transformations in Yoruba masculinity in the colonial period and his own attempts at self-invention. The article also emphasizes the overlap between the personal and the general: between the private and the public domains and how the diarist straddles, and is in turn affected by, sociocultural currents reverberating from these two sites.
Keywords
Diary
,
Colonial
,
Africa
,
Elite
,
Research Subject Categories::HUMANITIES and RELIGION::History and philosophy subjects::History subjects::History
Citation
Adeboye, O.A. (2008). Reading the Diary of Akinpelu Obisesan in Colonial Africa: African Studies Review, 51 (2), 75-97.