Central venous catheter insertion in critical illness: Techniques and complications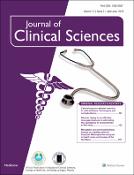 Abstract
Background: Werner Forssman, in 1929, first described central venous catheter (CVC) insertion when he canalized his own right atrium through the cephalic vein. It is now a routine procedure in critical care. We investigated the pattern of insertion of CVC in our intensive care unit. Patients and Methods: A prospective observational study conducted in a 5-bed general intensive care unit of a 770-bed university teaching hospital. All prospective patients admitted from January 2013 to June 2014 were recruited. The technique, site and complications following insertion were documented. All had postprocedure chest radiography performed to confirm catheter tip position. Results: The most common site and technique of CVC insertion were the right internal jugular vein (IJV) 71 (79.8%), and the anatomic landmark (AL) 66 (74.2%), respectively. The mean catheter depth was significantly shorter in the AL (15.0 ± 2.4) cm than the Peres' formula (16.5 ± 3) cm, P = 0.046. Catheter tips were correctly placed at the carina in 62 (69.7%) patients. The complication rate was 28 (31.5%), which was significantly higher in males 25 (45.5%) than females 3 (8.9%), P = 0.03, and increased by 57.9% with attempts >2. The most common complications were failure to insert 9 (10.1%), right carotid artery puncture (8.9%), and arrhythmias (5.9%). Pneumothorax was reported in (4.5%), all occurred with the subclavian approach. Conclusion: Central venous catheter insertion is more common through the right internal jugular vein, and with the anatomical landmark technique. The complication increased with attempts >2, male gender, and subclavian approach.
Keywords
Carina
,
Central venous catheter
,
Critical illness
,
Technique
,
Research Subject Categories::MEDICINE::Surgery::Anaesthetics and intensive care
Citation
Adekola OO, Irurhe NK, Raji VA, Desalu I. Central venous catheter insertion in critical illness: Techniques and complications. J Clin Sci 2018;15:96-101.
Collections