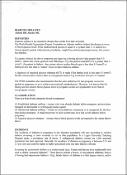 Publisher
Textbook of Obstetrics and Gynaecology for Medical students Heinemann Educational Books(Nigeria) Plc
Abstract
Diabetes mellitus is the metabolic disease that results from lack of insulin. The World Health Organisation Expert Committee on diabetes mellitus defined the disease in terms of blood glucose levels. If the random blood glucose is equal to or greater than 1l.0 mmol/l in a (non-pregnant) patient with polyuria, polydipsia, weight loss and occasional glycosuria, that patient has diabetes.
Keywords
Diabetes mellitus
,
World Health Organization
,
Diseases
,
Blood glucose level
,
Research Subject Categories::MEDICINE::Surgery::Obstetrics and women's diseases
Citation
Abudu OO, Afolabi BB. Textbook of Obstetrics and Gynaecology for Medical students . In: Diabetes Mellitus. 2nd edition ed. Agboola A, editor. Ibadan: Heinemann Educational Books(Nigeria) Plc; 2006. p.365 – 370.