Evaluation of Prevention of Mother-To-Child Transmission of HIV Services in Selected Health Facilities in Lagos State, Nigeria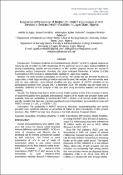 Publisher
Texila American University
Abstract
Introduction: Prevention of Mother-to-Child transmission (PMTCT) of HIV is a global response to reduce the risk of mother-to-child transmission of HIV which can occur in-utero, during childbirth or during breastfeeding, specific services rendered to HIV positive pregnant women are crucial in preventing vertical transmission, therefore, this study evaluated Prevention of Mother-To-Child Transmission of HIV services in selected health facilities in Lagos State, Nigeria. Method: The study adopted a descriptive survey design. The sample size was 19 health facilities in Lagos state, a multi stage sampling procedure was used to select the samples. Two instruments were used for data collection, observational checklist and past records of PMTCT activities of the participating facilities from January 2017 to December 2019. The checklist was pre tested with a reliability coefficient of 0.96. Analysis of data was done using descriptive statistics and inferential statistics. Results: The findings show that in all the selected health facilities 92.8% of the structures in terms of equipment/supplies were available and functional. majority of the health care providers listed were available, there was availability of recommended PMTCT services in all selected health facilities, it was also revealed that there was a positive significant relationship between the available structure and PMTCT services (r =.347; p = 0.0146 < .05). Conclusion: The availability of PMTCT structures, resources, equipment/supplies and service providers have significant influence on prevention of mother to child transmission of HIV services provision. Also, PMTCT services have influence on the final outcomes of exposed infants.
Keywords
Health Facilities
,
HIV Services
,
Prevention of Mother-To-Child Transmission
,
Evaluation
,
Research Subject Categories::MEDICINE
Citation
Ajayi, IF., Ademuyiwa, I.Y. & Owopetu, CA. (2020).Evaluation of Prevention of Mother-To-Child Transmission of HIV Services in Selected Health Facilities in Lagos State, Nigeria, Texila International Journal of Public Healt,18(2): 1-11.
Collections