From input to outcome: case-based learning raises medical and dental students expectations of better performance in their future practice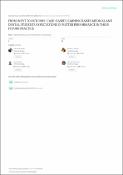 Publisher
Nigerian Quarterly Journal of Hospital Medicine
Abstract
Background: The ultimate goal of learning is to modify the behavior of which enhanced performance is a critical aspect. Studies have shown that the the pedagogical method employed to instruct students is a core factor that influences students' ability to translate classroom input (that is, learning) to practice (that is, learning outcome) later in life. Medical and dental students in Nigeria are often instructed through a didactic lecture which studies have shown are mostly boring and consequently lower students' expectations about their performance later in life. Objective: The current study was therefore designed to evaluate students' expectations on how they would perform in their professional pursuit later in life if they were instructed through case-based learning (CBL). Methods: To accomplish our objective, 56 consenting 5th year medical and dental students were recruited to participate in the study. The students were taught two topics by cases developed by the teachers. At the end of the second class, the participants were requested to fill a structured questionnaire anonymously. On the questionnaire, the students used a Likert-type of scale to respond to how they see CBLpedagogy in relation to their future practice. The responses were analyzed statistically by the simple percentage and Mann-Whitney U test. Results: Over 80% of the students regardless of gender and program of study agreed that CBL integrates theory with practice and about 90% consider CBL as relevant to their future practice. Although responses vary along the lines of gender and program of study, none of the variations were significant for any of these factors. Conclusion: The ability of CBL to give very high expectations to students about their future career practice is a strong call to policymakers and teachers to make the paradigm shift to CBLin Nigeria medical education.
Keywords
Case-based learning
,
Students
,
Medical
,
Education
,
Practice
,
Performance
,
Research Subject Categories::MEDICINE::Surgery::Obstetrics and women's diseases::Obstetrics and gynaecology
Citation
Medubi LJ, Osinubi AA, Odebiyi DO, Ajayi OF, Ademuyiwa A, Afolabi BB, Balogun MR, Odugbemi TO, Uti O, Ogunsola FT. From input to outcome: case-based learning raises medical and dental students expectations of better performance in their future practice. Nigerian Quarterly Journal of Hospital Medicine. 2021 December; 29(3 & 4):159-162.