Prevalence of hypertension and blood pressure profile amongst urban-dwelling adults in Nigeria: a comparative analysis based on recent guideline recommendations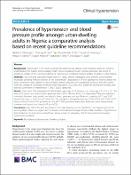 Abstract
Background: Hypertension is the major risk factor for cardiovascular diseases and prevalence rates are critical to understanding the burden and envisaging health service requirements and resource allocation. We aimed to provide an update of the current prevalence of hypertension and blood pressure profiles of adults in urban Nigeria. Methods: Cross sectional population-based survey in Lagos, Nigeria. Participants were selected using stratified multistage sampling. Relevant sections of the World Health Organization STEPwise approach to chronic disease risk factor surveillance were utilized for data collection. Blood pressures were categorized based on both the current American College of Cardiology/American Heart Association (ACC/AHA) 2017 guidelines and the pre-existing Joint National Committee on Hypertension 7 (JNC7) (2003) categories. Results: There were 5365 participants (51.8% female), age range of 16-92 years, and mean age ± SD 37.6 ± 13.1. The mean ± SD systolic and diastolic blood pressures were 126.8 ± 18.6 and 80.6 ± 13.2 respectively. There was significant correlation between both systolic and diastolic blood pressures and age (Pearson correlation 0.372 and 0.357 respectively and p = 0.000 in both instances). The prevalence of hypertension was 55.0% (3003) and 27.5% (1473) based on the ACC/AHA 2017 guideline and the JNC7 2003 guidelines respectively. Body mass index was positively correlated with systolic and diastolic BP (p = 0.000). Conclusions: Over half of the adult population in this major Nigerian city are classified to have hypertension by the recent guideline. There is an urgent need to develop and implement strategies for primordial prevention of hypertension (and obesity) and to restructure our healthcare delivery systems to adequately cater for the current and emerging hypertensive population.
Keywords
Hypertension, Nigeria, Prevalence, Blood pressure
Citation
Okubadejo NU, Ozoh OB, Ojo OO, Akinkugbe AO, Odeniyi IA, Adegoke O, Bello BT, Agabi OP. Prevalence of hypertension and blood pressure profile amongst urban-dwelling adults in Nigeria: a comparative analysis based on recent guideline recommendations. Clin Hypertens. 2019 Apr 15;25:7.
Collections