Spontaneous heterotropic pregnancy in sickle cell disease with survival of the abdominal pregnancy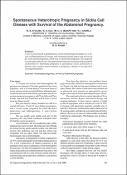 Abstract
A case is presented of a spontaneously conceived heterotopic pregnancy in a 38-year-old Haemoglobin SS woman, with intrauterine foetal demise and survival of the extra-uterine pregnancy, which was an abdominal pregnancy. The diagnosis was not made until delivery. This report should create the awareness of the possibility of abdominal or heterotopic pregnancy in spontaneous cycles, particularly in patients with recurrent severe anaemia in pregnancy, whether or not they have haemoglobinopathies.
Keywords
Heterotropic pregnancy
,
Survival of abdominal pregnancy.
,
Haemoglobin
,
Anaemia
,
Research Subject Categories::MEDICINE::Surgery::Obstetrics and women's diseases
Citation
Afolabi BB, Ola ER, Ibidapo MO, Anorlu RI. Spontaneous heterotropic pregnancy in sickle cell disease with survival of the abdominal pregnancy. Niger Postgrad Med J. 2006 Jun;13(2):163-4. PubMed PMID: 16794658.