Acceptability of child adoption in the management of infertility: A survey of women attending fertility clinics in the tertiary facilities in Lagos.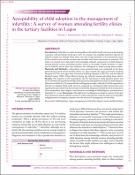 Publisher
Journal of Clinical Sciences
Abstract
Introduction: Infertility is a major social problem with public health relevance in developing countries, with prevalence levels up to 30%. In contrast, the available treatment options for infertile couples are limited. Most times, the cost of this treatment is far beyond the reach of the common man and the success rates recorded with these treatments are minimal. This study was carried out to determine the knowledge, attitude, and practice of child adoption among infertile women attending fertility clinics in the public health facilities in Lagos, and to identify factors that may influence the willingness to adopt among these women. Materials and Methods: A descriptive cross‑sectional study was conducted in the three government‑owned tertiary fertility clinics in Lagos (namely the Lagos University Teaching Hospital (LUTH), the Lagos State University Teaching Hospital (LASUTH), and the Federal Medical Center (FMC) Ebute‑Metta) among 355 infertile women attending these clinics. Results: The majority of the respondents (90.1%) had heard of child adoption before and 28.7% of them had a good knowledge of the processes and legalities involved in child adoption. Almost two‑thirds (63.7%) expressed their willingness to adopt, while 58.6% of the respondents felt that an adopted child could never be compared to a biological child. Factors that were significantly associated with the attitude toward child adoption included the level of education of the respondent, their religion, marital status, knowledge of child adoption, and duration of infertility (P < 0.05). Discussion: The high level of willingness to adopt in contrast to the low level of practice among infertile women in Lagos indicates the scope for advocacy and public enlightenment to integrate adoption into the arsenal of management of infertility.
Keywords
Child adoption
,
Management of Infertility
,
Lagos State
,
Tertiary health facilities
,
Research Subject Categories::MEDICINE::Social medicine
Citation
Ezenwankwo FC, Roberts AA, Balogun MR. Acceptability of child adoption in the management of infertility: A survey of women attending fertility clinics in the tertiary facilities in Lagos. Journal of Clinical Sciences 2014; 11(2): 35-38