DISSEMINATING COVID-19-RELATED INFORMATION THROUGH MUSIC AND RADIO TALK-SHOWS TO YORUBA AUDIENCE COMMUNITY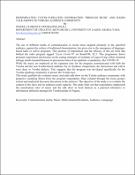 Publisher
The Sixth J. A. Atanda Lectures and Conference
Abstract
The use of different media of communication in recent times targeted primarily at the specified audience, against the culture of traditional dissemination, has given rise to the emergence of language-based radio or call-in programs. This premise of importation and the efficacy of this art form that birthed the radio program tagged "Leyin Covid-19" on Bond-FM, 92.3. This programme draws personal experiences and lessons on the coping strategies of residents of Lagos living within clustered settings (multi-tenanted houses) in precarious times of an epidemic or pandemic, like COVID-19. While the music art employed as the signature tune for the program communicated with both the Yoruba and the non-Yoruba-based audience for its rhythmic composition, the discussions and call-in were done in Yoruba dialects. This suggests that the program was developed specifically for the Yoruba-speaking community to protect the Yoruba race. This study qualitatively evaluates music and radio talk-show on the Yoruba audience community with purposive sampling drawn from the program respondents. Data collated through the focus group's critical and analytical discourse discussion in the archives. The objective of the study is to evaluate the content of the show and its audience-reach capacity. The study finds out that respondents emphasized the sensitization roles of music and the talk show in local dialects as a practical alternative to information diffusion amongst the Yoruba people in Nigeria.
Keywords
Communication media
,
Music
,
Multi-tenanted Residents
,
Audience
,
Research Subject Categories::HUMANITIES and RELIGION::Aesthetic subjects
Citation
Nweke, F.E. (2021). Disseminating COVID-19 Related Information Through Music and Radio Talk-Shows to Yoruba Audience Community. Ogun-Nigeria. Atanda Conference Series.
Collections