D-Ribose-L-Cysteine-rich supplement attenuates doxorubicin-induced impaired Spermatogenesis, testicular steroidogenesis and redox status in Sprague-Dawley rats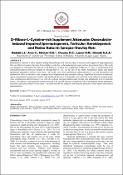 Abstract
Reproductive function is often impaired during chemotherapy and currently there is no universally approved drug/supplement that can effectively protect the testis from cellular assault due to chemotherapeutic agent such as doxorubicin (dox). This study was designed to investigate the efficacy of D-Ribose-L-Cysteine rich supplement, CellgevityTM (cgt), in ameliorating some doxorubicin-induced testicular damage in Sprague-Dawley rats. At the end of the study, biochemical assays and sperm epididymal parameters analysis were done. Our results show that simultaneous administration of cgt and doxorubicin has ameliorative effect on the testis when compared to pre-treatment or post-treatment with cgt. Significant increase in testosterone, sperm concentration, progressive motility and significant decrease in immotility were observed in the cellgevity treated group. Also, simultaneous administration of cgt with dox reduced lipid peroxidation and boosted only glutathione level in testicular tissues. Nevertheless, pre-treatment or post-treatment with cgt did not play a significant role in modulating sperm parameters, hormones and tissue oxidative stress level. This result reveals that cellgevity has testiculo-protective effect against doxorubicin administration.
Keywords
CellgevityTM
,
Doxorubicin
,
Testosterone
,
Sperm parameters
,
Research Subject Categories::MEDICINE
Citation
Medubi LJ, Ama C, Nwosu NC, Lawal OR, Osinubi AAA. D-Ribose-L-Cysteine-rich supplement attenuates doxorubicin-induced impaired Spermatogenesis, testicular steroidogenesis and redox status in Sprague-Dawley rats. Afr. J. Biomed. Res. 2019;22:179-185.
Collections