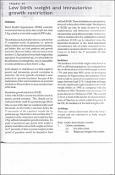 Publisher
Textbook of Obstetrics and Gynaecology for Medical students, Heinemann Educational Books(Nigeria) Plc
Abstract
World Health Organization (WHO) currently recommends that any baby that weighs less than 2.5kg at birth is a low birth weight (LBW) baby. definition includes babies born too early (before 37 completed weeks of gestation, i.e. preterm babies), babies with intrauterine growth restriction, and babies that are both preterm and growth restricted. However, babies who are born at term and above 2.5kg but have lower birth weights than appropriate for gestational age, are not included in this definition even though they may be susceptible to similar problems as those below 2.5kg.
Keywords
World Health Organization
,
Birth Problems
,
Weight
,
Babies
,
Research Subject Categories::MEDICINE::Surgery::Obstetrics and women's diseases
Citation
Abudu, O.O. & Afolabi, B.B. (2006). Textbook of Obstetrics and Gynaecology for Medical students . In: Low birth weight. 2nd edition ed. Agboola A, editor. Ibadan: Heinemann Educational Books(Nigeria) Plc, p.407 – 11.