Patterns of chronic illness among older patients attending a university hospital in Nigeria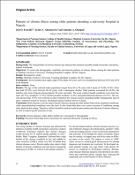 Publisher
The Ghana Medical Association
Abstract
Background: The rising burden of chronic diseases has attracted the attention of public health researchers and policymakers worldwide. Objectives: To assess the demographic, morbidity and outcome patterns of chronic illness among the older patients at Obafemi Awolowo University Teaching Hospitals Complex, Ile-Ife, Nigeria. Design: Retrospective study Setting: Obafemi Awolowo University Teaching Hospitals Complex, Ile-Ife, Nigeria. Participants: Seven hundred and eighty-eight (788) adults (60 years and over) hospitalized between 2010 and 2014 in the hospital. Interventions: None Results: The age of the selected study population ranged from 60 to 99 years with a mean of 76.08(±10.42). More than half (53.0%) were between 60–69 years, with a subsequent decline. Male patients accounted for 64.0%, but females were more frequent among patients 80 years and older. The most common health conditions were heart diseases (22.5%), neoplasm (13.2%), cerebrovascular accident (12.4%), and gastrointestinal diseases (14.5%). The records showed that 14.9% were referred to other institution for various reasons (including further management, lack of space, industrial action by workers, discharged against medical advice or dead). Conclusion: Heart diseases were the major chronic illnesses among the older adults followed by neoplasm conditions, while musculoskeletal conditions were the least. It also found that there was a poor outcome of conditions among older adults in this setting. Therefore, efforts should be made towards the prevention and reduction of chronic illnesses, as well as improving the outcome of care.
Keywords
chronic diseases
,
Older adults
,
Health care
,
Retrospective
,
Demographic
,
Research Subject Categories::MEDICINE
Citation
Faronbi, J.O., Ademuyiwa, I.Y. & Olaogun, A.A. (2020). Patterns of chronic illness among older patients attending a university hospital in Nigeria. Ghana Med J 2020; 54(1): 42-47.
Collections