Health Related Quality of Life of the Elderly in Institutional and Non-Institutional Care in SouthWestern Nigeria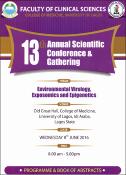 Abstract
Book of abstracts attached.
Description
To access the full text of this article, kindly contact the University Librarian- Dr. Olukemi Fadehan via the administrators: Dr. Yetunde Zaid (yzaid@unilag.edu.ng) or Dr. Christopher Okiki (cokiki@unilag.edu.ng) of the University of Lagos Library.
Keywords
Quality of Life
,
Institutional
,
Ageing
Citation
Ogunyemi, A.O and Odeyemi, K (2016) Health Related Quality of Life of the Elderly in Institutional and Non-Institutional Care in SouthWestern Nigeria. 13th Annual Scientific, Conference and Gathering Held at College of Medicine, University of Lagos, Idi Araba.