Utilization of Cancer Information System for Breast Cancer Control in Lagos, Nigeria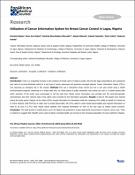 Abstract
Introduction: There is a substantial increase in the incidence of breast cancer in Nigeria usually with the late-stage presentations and subsequent poor rates of survival attributed mainly to a low level of cancer awareness and ignorance amongst patients. Cancer information system (CIS) is now assuming an emerging role in this respect. Methods: This was a descriptive study carried out over a one year period using a health communications program comprising of 3 breast help lines. An initial period of public awareness was carried out over a 3 months period after which members of the public were encouraged to call the help lines. Breast cancer information was provided and the socio-demographic characteristics and other relevant data of the callers were recorded by the information specialists. Results: A total of 294 people were reached during the study period. Majority of the callers (82%) sought information for themselves while the remaining 18% called on behalf of a loved one or friend. Majority [248 (84.3%)] of callers had no breast abnormality, 38 (13%) called to report breast abnormalities and required information on what to do and 8 (2.7%) were breast cancer patients who required information on how to live and cope as breast cancer survivors. Conclusion: The rapid growth of mobile phone use in Nigeria has presented a unique opportunity and promise to improve cancer care. There is evidence to suggest that mHealth can be used to deliver increased health care services to the increasing population of cancer patients in Nigeria.
Keywords
Breast cancer
,
Nigeria
,
Cancer awareness
,
Health communication programs
,
Research Subject Categories::MEDICINE::Surgery::Obstetrics and women's diseases::Obstetrics and gynaecology
Citation
Salako O, Robert AA, Okunade KS, Olatunji A, Fakolade A, Isibor V, Falode D. Utilization of Cancer Information System for Breast Cancer Control in Lagos, Nigeria. The Pan African Medical Journal. 2016; 24: 323.