Knowledge and Uptake of Community-Based Health Insurance Scheme among Residents of Olowora, Lagos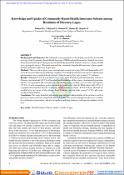 Publisher
Journal of Clinical Science
Abstract
Background and Objective:The informal sector population in developing nations has low health coverage from Community Based Health Insurance (CBHI) and problems such as limited awareness about the potential impact of prepayment health financing and the limited resources to finance health care can impede success. This study assessed the community based health insurance scheme uptake and determinants in Olowora, Lagos State. Methods: This was a descriptive cross sectional study carried out in July 2010 in all households of 12 out of 41 streets in Olowora,by multistage sampling. Four hundred and sixteen interviewer-administered questionnaires were completed and returned. Analysis was by Epi- info version 3.5.1 software. Results: Although 75.5% of respondents were aware of the Community Health Insurance scheme at Olowora, just about half (49.5%) of them had good knowledge of the scheme. A substantial proportion (44.2%) of respondents did not believe in contributing money for illness yet to come, and majority (72.3%) of such respondents prefers payment for health care when ill. While about half (53%) of respondentshad enrolled into the community health insurance scheme, 45.6% of those who had not enrolled were not aware of the scheme. Lack of money was the main reason (51.5%) why some enrollees had defaulted. Conclusion: The study identified information gaps and poor understanding of the scheme as well as poverty as factors that have negatively affected uptake. The scheme management has to re-evaluate its sensitization programmes, and also strengthen marketing strategies with special emphasis on the poor.
Keywords
Health Insurance Scheme, uptake, enrollee, Lagos.
Citation
22. Ibukun O, Olatona F A, Oridota ES, Okafor IP, Onajole AT (2013). Knowledge and uptake of Community- Based Health Insurance Scheme Among Residents of Olowora, Lagos. Journal of Clinical Science, Vol 10, Number 2; 8-12.