Double Consciousness and the Homecoming of African Americans:Building Cultural Bridges in West Africa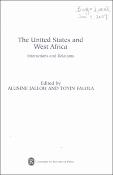 Publisher
University Of Rochester Press,668 Mt. Hope Avenue, Rochester, NY 14620, USA
Abstract
An attempt is made in this chapter to explore the validity of DuBois' thesis of "double consciousness," which has naturally been motivating African Americans to know more about Africa, visit Africa, rediscover their roots, and if possible live in Africa. But this psychological phenomenon is not peculiar to African Americans alone. It is common to various diasporic groups all over the world. Hence the longing for one's place of birth after relocating either voluntarily or involuntarily to faraway countries is natural and human.
Keywords
Cultural Bridges
,
Home Coming of African Americans
Citation
Lawal, A.A (2009) Double Consciousness and the Homecoming of African Americans: Building Cultural Bridges in West Africa. The United States And West Africa : Interactions And Relations Edited By Alusine Jalloh And Toyin Falola. Pp. 200 - 213.