Knowledge and attitude towards mental disorders among adults in an urban community in south-west Nigeria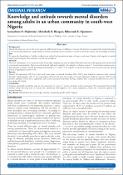 Abstract
Background Mental disorders are one of the most ignored public health issues worldwide. However, the burden associated with mental disorders is ever increasing and poses a major threat to health, social interactions and the economy of both developed and developing countries. Aim To assess the knowledge of adults residing in an urban local government area in Lagos, south-west Nigeria, with regards to mental health and investigate their attitudes towards this condition. Methods This was a descriptive cross-sectional study. Multi-stage sampling was used to select 242 adults who were subsequently interviewed with a structured questionnaire. Data was collected and analysed using Epi Info statistical software version 7. Associations between sociodemographic variables and the knowledge and attitudes of subjects with regards to mental disorders were assessed using chi-square tests at a significance level of 0.05. Results Almost all respondents (95.5%) in this study were aware of mental disorders while 31.0% were related to someone with a mental disorder. Approximately half of the respondents (51.2%) had poor knowledge of mental disorders while the majority (90.0%) had positive attitudes. There was a significant and positive association between having a relative with a mental disorder and the level of knowledge (P=0.010). Conclusion Analyses identified knowledge gaps in the community in terms of mental disorders in the community. We recommend that health workers should develop ways to educate the community with regards to the causes, symptoms, effects and treatment options for mental disorders.
Keywords
Mental disorders
,
Community
,
Public health
,
Patients
,
Research Subject Categories::MEDICINE::Social medicine
Citation
Mojiminiyi IO, Balogun MR, Ogunnowo BE. Knowledge and attitude towards mental disorders among adults in an urban community in south-west Nigeria. Malawi Medical Journal 2020; 32(2): 87-94.