A 3-year review of the pattern of contraceptive use among women attending the family planning clinic of a University Teaching Hospital in Lagos, Nigeria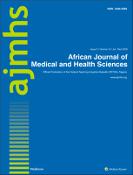 Abstract
Background: Contraceptives are methods or devices used to prevent pregnancy. In Nigeria, the contraceptive prevalence was reported at 15% in 2013. Aims: This study aimed to determine the pattern of contraceptive use and sociodemographic characteristics of the users of family planning services in a teaching hospital in Lagos. Subjects and Methods: This was a descriptive, retrospective study of women who sought contraceptive services at the family planning clinic over a 3-year period. Relevant information was extracted from the case records of these women. Data were analyzed using Epi Info statistical package for Windows. Results: A total of 594 women opted to use a form of contraception in the study, within an age range of 15–52 years and with mean age of 34.3 ± 4.2 years. Fifty-four percent (54%) of the women users belonged to the Yoruba tribe and 89.4% were of the Christian faith. Married women accounted for 97.6% of the users, with the majority (68.9%) having parity of 2–4. Majority (77.6%) of the women had at least a tertiary level of education, with 46.1% of them involved in a form of skilled occupation. Nurses were the commonest source of referrals (42.9%). A larger proportion of the women (46.3%) preferred Jadelle implant while the least used method is Norplant (0.5%). Conclusion: Equipping medical personnel with the information and skills needed to meet the increasing demand for family planning services is necessary to avert the needless increase in the incidence of unwanted pregnancies, unsafe abortion, and their sequelae.
Keywords
Contraceptives
,
Family planning
,
Lagos
,
Nigeria
,
Research Subject Categories::MEDICINE::Surgery::Obstetrics and women's diseases::Obstetrics and gynaecology
Citation
Okunade KS, Daramola E, Ajepe A, Sekumade A. A 3-year review of the pattern of contraceptive use among women attending the family planning clinic of a University Teaching Hospital in Lagos, Nigeria. Afr J Med Health Sci 2016; 15(2): 69-73.