Reaching health facilities in situations of emergency: qualitative study capturing experiences of pregnant women in Africa's largest megacity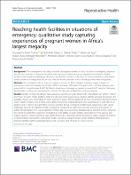 Abstract
Background: The consequences of delays in travel of pregnant women to reach facilities in emergency situations are well documented in literature. However, their decision-making and actual experiences of travel to health facilities when requiring emergency obstetric care (EmOC) remains a 'black box' of many unknowns to the health system, more so in megacities of low- and middle-income countries which are fraught with wide inequalities. Methods: This in-depth study on travel of pregnant women in Africa's largest megacity, Lagos, is based on interviews conducted between September 2019 and January 2020 with 47 women and 11 of their relatives who presented at comprehensive EmOC facilities in situations of emergency, requiring some EmOC services. Following familiarisation, coding, and searching for patterns, the data was analysed for emerging themes. Results: Despite recognising danger signs, pregnant women are often faced with conundrums on "when", "where" and "how" to reach EmOC facilities. While the decision-making process is a shared activity amongst all women, the available choices vary depending on socio-economic status. Women preferred to travel to facilities deemed to have "nicer" health workers, even if these were farther from home. Reported travel time was between 5 and 240 min in daytime and 5-40 min at night. Many women reported facing remarkably similar travel experiences, with varied challenges faced in the daytime (traffic congestion) compared to night-time (security concerns and scarcity of public transportation). This was irrespective of their age, socio-economic background, or obstetric history. However, the extent to which this experience impacted on their ability to reach facilities depended on their agency and support systems. Travel experience was better if they had a personal vehicle for travel at night, support of relatives or direct/indirect connections with senior health workers at comprehensive EmOC facilities. Referral barriers between facilities further prolonged delays and increased cost of travel for many women. Conclusion: If the goal, to leave no one behind, remains a priority, in addition to other health systems strengthening interventions, referral systems need to be improved. Advocacy on policies to encourage women to utilise nearby functional facilities when in situations of emergency and private sector partnerships should be explored.
Keywords
Nigeria
,
Africa
,
Megacity
,
Emergency obstetric care
,
Travel
,
Urbanisation
,
Research Subject Categories::MEDICINE::Surgery::Obstetrics and women's diseases
Citation
Banke-Thomas A, Balogun M, Wright O, Ajayi B, Abejirinde IO, Olaniran A, Giwa-Ayedun RO, Odusanya B, Afolabi BB. Reaching health facilities in situations of emergency: qualitative study capturing experiences of pregnant women in Africa's largest megacity. Reprod Health. 2020 Sep 25;17(1):145. doi: 10.1186/s12978-020-00996-7. PubMed PMID: 32977812; PubMed Central PMCID: PMC7519554.