Polycystic Ovarian Syndrome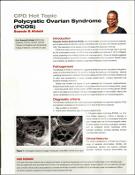 Publisher
The BeyHealth Quarterly Journal
Abstract
Polycystic ovarian syndrome (PCOS), also known as Stein - Leventhal syndrome is an enigmatic and complex endocrine disorder originally described by Drs Irving Stein and Michael Leventhal in 1935. Their description of the disease remains the basis of its diagnosis to this day. PCOS is the most common endocrine disorder in women of reproductive age, seen in as many as 75% of anovulatory women. In 2013 study, the condition was observed in 18.1% of Nigerian women presenting in two infertility centres over a two-year period. Ultrasound findings suggestive of PCOS are present in up to 20% of women, including those without symptoms. Specific criteria must, therefore, be satisfied to establish a diagnosis of Polycystic Ovarian Syndrome.
Keywords
Polycystic ovarian syndrome
,
Endocrine disorder
,
Disease
,
Nigerian women
,
Research Subject Categories::MEDICINE::Surgery::Obstetrics and women's diseases::Obstetrics and gynaecology
Citation
Afolabi BB. Polycystic Ovarian Syndrome. The BeyHealth Quarterly Journal. 2018 October.