A Historical Jubilee: A History of the Department of History and Strategic Studies, University of Lagos, 1965-2015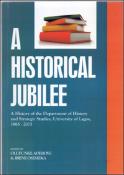 Publisher
University of Lagos Press
Abstract
The idea behind this book is to document the key moments in the history of the department. The book is divided into two sections. In the first section, Irene Osemeka provides a general overview of the birth and gradual growth of the department, highlighting the principal actors, key developments and achievements made in the course of fifty years. The second section is a collection of reminiscences by past Heads of Department. These personal recollections are frank, sometimes humorous and easy to read. We have deliberately kept the tone of the book light and reduces references to make it readable and commend it to readers even outside the ivory tower. We added two appendices to show the list of staff that have taught in the Department since its inception and also to display the wide array of subjects researched by our PhD candidates.
Keywords
History
,
Strategic Studies
,
Curriculum
,
Achievements
,
Research Subject Categories::HUMANITIES and RELIGION::History and philosophy subjects::History subjects::History
Citation
Adeboye, Olufunke. & Osemeka, Irene. (2015). A Historical Jubilee: A History of the Department of History and Strategic Studies, University of Lagos, 1965-2015, University of Lagos, Akoka.