The Roots of African Nationalism: A Conceptual and Historiographical Discourse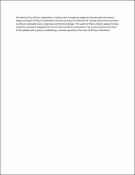 Abstract
The literature on African nationalism is replete with conceptual categories that describe the various stages and types of African nationalism and the resistance to colonial rule. Among the foremost scholars on African nationalism are J. Ade Ajayi and Terrence Ranger. The works of these scholars appear to have created a conceptual disagreement on the roots of African nationalism. The article analyzes the nature of this debate with a view to establishing a common ground on the roots of African nationalism.
Description
To access the full text of this article, kindly contact the University Librarian- Dr. Olukemi Fadehan via the administrators: Dr. Yetunde Zaid (yzaid@unilag.edu.ng) or Dr. Christopher Okiki (cokiki@unilag.edu.ng) of the University of Lagos Library.
Keywords
Nationalism
,
Colonial rule
Citation
Adeleke, A.(2012).The Roots of African Nationalism: A Conceptual and Historiographical Discourse British Journal of Arts and Social Sciences, 8(1) 66-72.