Care practices and nutritional status of the elderly in old people's homes in Lagos state.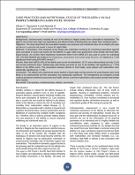 Abstract
Background: Socioeconomic hardship of most of the elderly in Nigeria makes them vulnerable to malnutrition. The aged in care homes have high care dependency and altered modes of feeding that can impair their nutritional status. Objective: The study determined the association between care practices and nutritional status of the elderly (60 years and above) in selected old people's homes in Lagos State. Methods: A descriptive cross-sectional survey design was undertaken involving 56 consenting respondents aged 60 years and above in seven care homes for the elderly in Lagos State (one government, three private and three faith- based homes). An 18-item Mini Nutritional Assessment-Short Form (MNA-SF) was used to screen for nutritional risk. The data obtained was analyzed for frequencies, associations were tested using Pearson's chi-square at p < 0.05 significance level using EPI INFO version 7. Results: More than half (51.8%) of the elderly were at risk of malnutrition, 35.7% were malnourished and only 12.5% had normal nutritional status. Relationship with family and level of care in the facilities had significant (p < 0.05) effects on the MNA scores. The associations between decline in food intake, acute disease and malnutrition were statistically significant (p < 0.05). Conclusion: The elderly who experienced severe decline in food intake and the presence of acute diseases were more likely to be malnourished and this association was statistically significant. The management and caregivers should conduct periodical nutritional assessment and health checks to prevent malnutrition and provide prompt intervention when needed. Key words: Care practice, nutritional status, elderly, care homes.
Keywords
Care practice
,
Nutritional status
,
Elderly
,
Care homes
,
Research Subject Categories::MEDICINE::Social medicine
Citation
Okoye C., Ogunyemi A.O and Abosede A.O. Care practices and nutritional status of the elderly in old people's homes in Lagos state. Nigerian Journal of Nutritional Sciences. 2019;40(1): 82-90.