Prevalence Of Antiphospholipid Antibodies In Pregnant Women At A Secondary Health Care Institution In Lagos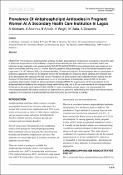 Publisher
The Internet Journal of Hematology
Abstract
OBJECTIVE: The presence of antiphospholipid antibody has been associated with complications in pregnancy; hence the need to determine the prevalence of this antibody in pregnant women attending the ante-natal clinic in a secondary health care institution in Lagos metropolis using screening tests. SUBJECTS AND METHODS: A cross-sectional study was carried out on a total of one hundred and thirty one (131) women attending obstetrics and gynaecology clinic at the General hospital Surulere Lagos from 1st to 18th February 2005. Out of these attendees, 37 were non-pregnant, 31 were pregnant with no complications in pregnancy (apparently normal) and 63 pregnant women with complications in pregnancy. Blood samples were collected from ante-natal patients after obtaining informed consent. The plasma of all the samples were subjected to kaolin clotting time and the serum of forty-three (43) of the samples were run on an enzyme-linked immunosorbent assay (ELISA) for the semi quantitative determination of IgG and IgM anticardiolipin antibodies.RESULTS: A prevalence of 9.3% was obtained for the antiphospholipid antibodies by the coagulation-based kaolin clotting time, and 2.3% by a more sensitive immunological-based ELISA test on the same set of patients.CONCLUSION: In order to avoid false positive results, it is recommended that immunological-based ELISA test be carried out on patients that test positive to kaolin clotting time and/or have clinical features suggestive of the presence of antiphospholipid antibody before they are commenced on therapy.
Keywords
Antiphospholipid antibody
,
Ante-natal clinic
,
Health care
,
Pregnancy
,
Research Subject Categories::MEDICINE
Citation
Akinbami AA, Akanmu AS, Afolabi BB, Wright KO, Dada MO, Dosunmu AO. Prevalence Of Antiphospholipid Antibodies In Pregnant Women At A Secondary Health Care Institution In Lagos. The Internet Journal of Hematology. 2009; 6(1).