The COVID‐19 pandemic: Stay Home policy and exposure to risks of infection among Nigerians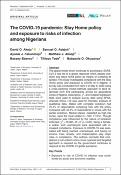 Abstract
The global threat which continues to accompany SARS-CoV-2 has led to a global response which adopts lockdown and stays home policy as means of curtailing its spread. This study investigates compliance with the Stay Home policy and exposure to COVID-19 in Nigeria. A survey was conducted from April 4 to May 8, 2020 using a cross-sectional mixed-methods approach to elicit responses from 879 participants across six geopolitical zones of Nigeria. Descriptive, χ2, and multiple regression tests were used to analyze survey data using SPSS, whereas NVivo v12 was used for thematic analysis of qualitative data. States with complete lockdown had 72.4% of respondents complying fully with the policy compared with 44.2% of respondents in zones with the partial lockdown. Market places, classified as high-risk zones, were the most visited (n = 505; 71.0%). Though compliance was influenced by the nature of lockdown enforced (χ2 = 70.385, df = 2; p < 0.05), being a female, a widow, and unemployed were associated with increased compliance. Exposure to COVID-19 was associated with being married, unemployed, and having no income. Fear, anxiety, and misperception play major roles in compliance. The authors conclude that compliance is not uniform and a more nuanced and targeted approach is required as the government continues to respond to the COVID-19 global pandemic.
Keywords
COVID-19 pandemic
,
Misconception
,
COVID-19 risk
,
Stay home policy
,
Research Subject Categories::MEDICINE::Surgery::Obstetrics and women's diseases
Citation
Akeju, David O., Samuel O. Adejoh, Ayoola J. Fakunmoju, Matthew J. Allsop, Bassey Ebenso, Titilayo Tade, and Babasola O. Okusanya. "The COVID‐19 pandemic: Stay Home policy and exposure to risks of infection among Nigerians." World Medical & Health Policy.