Clinical and aetiologic profile of patients with chronic urticaria at the outpatient clinic of a tertiary hospital in Lagos, Nigeria: a cross-sectional observational study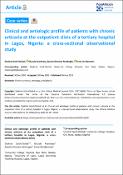 Publisher
Pan African Medical Journal
Abstract
Chronic urticaria is a condition characterized by recurrent wheals associated with itching lasting longer than six weeks. The condition tends to run a chronic course with significant morbidity. Several factors have been explored in the cause, yet the aetiology is still uncertain. We documented the clinical profile and assessed the possible aetiologic factors in patients with chronic urticaria. Clinical profile of sixty consecutive patients with chronic spontaneous urticaria was assessed with possible precipitants identified using a structured questionnaire. The complete blood count with erythrocyte sedimentation rate, antithyroid peroxidase (antiTPO), hepatitis B surface antigen (HBsAg), antihepatitis C virus screening (AntiHCV), stool for ova and parasites and helicobacter pylori were carried out. Controls without a history of urticaria were recruited in a 1: 1 ratio for stool for parasites and H. pylori because of the high prevalence rates reported in this environment. Data analysis was carried out with Statistical Packages for Social Sciences (SPSS) version 22. Sixty patients with chronic urticaria and sixty age and sex matched controls were enrolled in the study. Females presented more often with urticaria with a M: F ratio of 1: 2.5. The mean age of onset of urticaria was in the third decade of life. Precipitants were identified in close to a third of patients. The investigated antigenic aetiology was not found to play a role. The presentation and clinical profile of patients in this environment is similar to previously documented studies. History still remains the cornerstone of management as precipitants and triggers may be identified. Management of patients should therefore be individualized.
Keywords
chronic urticaria
,
Morbidity
,
Aetiology
,
Precipitants
,
Research Subject Categories::MEDICINE
Citation
Gold-Olufadi, S., Ayanlowo, O., Akinkugbe, A. O., & Otrofanowei, E. (2021). Clinical and aetiologic profile of patients with chronic urticaria at the outpatient clinic of a tertiary hospital in Lagos, Nigeria: a cross-sectional observational study. The Pan African Medical Journal, 40.
Collections