Neighbourhood and Homeland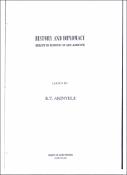 Abstract
The paper provides some explication of historical developments in the two geographical environments of Ijebu-Igbo and Ososami where Professor Ade Adefuye was born and had his formative years respectively. The paper demonstrates the importance of history in the understanding of current developments. This is especially underlined in the section on Ijebu-Igbo by the presenter writer where it is shown that the nature of current chieftaincy politics in the town (in which Professor Adefuye was at some point invited to assist in conflict resolution) is the fallout of the implementation of British Indirect Rule in Ijebu during the colonial period. The political identity of a town called Ijebu-Igbo (derived from five principal communities) was forged during that period with the Orimolusi as the town head. The paper shows that that identity is coming under strain as the office of the Orimolusi has become potentially undermined with the official appointment of section heads over the five constituent communities of the town.
Keywords
Ibadan
,
Ijebu-Igbo
,
Orimolusi
,
Research Subject Categories::HUMANITIES and RELIGION::History and philosophy subjects::History subjects
Citation
Adesina, O., & Oduwobi, T. (2017). Neighbourhood and Homeland. In R. Akinyele (Ed.), History and Diplomacy (Essays in Honour of Ade Adefuye) (pp. 34-46). New Jersey: Goldline and Jacobs.