Non-Fistulous Complications of Prolonged Obstructed Labour among Obstetric Fistula Patients in Southern Nigeria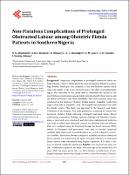 Abstract
Background: Long-term complications of prolonged obstructed labour are multisystemic, obstetric fistula about the most devastating. Efforts at controlling obstetric fistula pay little attention to the non-fistulous injuries which reduce the quality of life of the affected women even after a successful fistula repair. The objectives of this study were to determine the burden of the non-fistulous complications among fistula patients, identify these injuries and the factors associated with them. Methods: This cross-sectional study was conducted at the National Obstetric Fistula Centre, Abakaliki, South-East Nigeria from July to December 2016. The hospital has performed over 2600 free fistula repairs. This study was approved by the Research and Ethics Committee of the hospital. The study population comprised of women who developed obstetric fistula following prolonged obstructed labour. Direct questioning, examination findings, operation findings and laboratory results, using a pre-tested, semi-structured and interviewer-administered proforma were used to collect data. Informed consent was obtained from the subjects. Data were analyzed using the Statistical Package for Social Sciences [SPSS] version 21. Frequency and proportions were used to describe categorical variables while means and standard deviation were used to describe continuous variables. Association between categorical variables and direct obstructed labour injuries was tested using chi-square test and predictors of obstructed labour injuries were determined using logistic regression. A P-value < 0.05 was considered statistically significant. Results: One hundred and sixty one (161) women participated in the study. The mean age of the women was 33.4 years while the mean parity was 3.2. Non-fistulous complications of prolonged obstructed labour were found in 96.9% (156) of the women. These included cervical retraction (42.2%), obstetric nerve palsy (30.4%), vaginal scarring (29.8%), partial urethral loss (16.1%), anal sphincter injury (3.1%), cervical stenosis (5.0%) and urethral stenosis (3.7%). Others were ammoniacal dermatitis (29.2%), secondary amenorrhoea (21.7%), secondary infertility (9.3%), dyspareunia (6.8%), hypomenorrhea (1.2%) and bladder stone (3.7%). Majority (79.4%) of the women with cervical retraction had caesarean section (CS) as against 20.6% who had vaginal delivery. This was statistically significant (P < 0.001). A higher proportion of participants with amenorrhea were delivered via CS (44.3%) compared to those who had vaginal delivery (21.2%). This was also statistically significant (P = 0.012). Neurologic injury was associated with primiparity although this was not statistically significant (P = 0.171). Conclusion: Almost all fistula patients also have non-fistulous complications of prolonged obstructed labour. Efforts to manage the fistula should equally address these complications. We advocate comprehensive care for identification and management of these injuries to improve the quality of life and overall well-being of these women. To reduce complications like cervical retraction, there should be an emphasis on safer caesarean section for women with prolonged obstructed labour.
Keywords
Non-Fistulous Complications
,
Obstructed Labour
,
Obstructed Labour Injuries
,
Obstetric Fistula
,
Research Subject Categories::MEDICINE::Surgery::Obstetrics and women's diseases
Citation
Abodunrin, O. N., Daniyan, A. B. C., Okusanya, B., Ekwedigwe, K. C., Uguru, S. M., Yakubu, E. N., & Sunday-Adeoye, I. (2019). Non-Fistulous Complications of Prolonged Obstructed Labour among Obstetric Fistula Patients in Southern Nigeria. Open Journal of Obstetrics and Gynecology, 9(10), 1372.