Lagos and the Christmas Concerts/Festival Obsession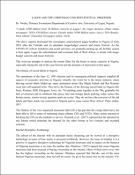 Abstract
As the COVID-19 with its lockdown and social activities are gradually picking up, holiday season is here again, Lagos the entertainment and economic hub of West Africa is awash with mega budget concerts and music festival. This write up is an attempt to analyze on the reason d'être for boom in music concerts in Nigeria especially during the end of the year festival and the dynamic of interaction in this space.
Keywords
Festival
,
Concert
,
Performance
,
Nigeria
,
Research Subject Categories::HUMANITIES and RELIGION::Aesthetic subjects
Citation
Nweke, F.E. (2021). Lagos and the Christmas Concerts/Festival Obsession. South Africa. Conversation Africa.
Collections