Familial systemic autoimmune rheumatic disease in Nigerians: a case series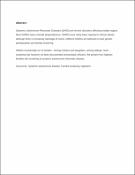 Publisher
African Journal of Rheumatology
Abstract
Systemic Autoimmune Rheumatic Diseases (SARD) are chronic disorders affecting multiple organs. Most SARDs have a female preponderance. SARDs have rarely been reported in African blacks, although there is increasing reportage of recent. Different SARDs are believed to have genetic predisposition and familial clustering. SARDs occasionally run in families - among mothers and daughters, among siblings. Such clustering has however not been documented among black Africans. We present four Nigerian families with clustering of systemic autoimmune rheumatic disease.
Keywords
Systemic autoimmune disease
,
Familial clustering
,
Female preponderance
,
African blacks
,
Research Subject Categories::MEDICINE
Citation
Akinkugbe, A. O., Adetimehin, O. I., Ayanlowo, O. O., Ima-Edomwonyin, U. I., Adeyemoye, A. A., & Adelowo, O. O. (2017). Familial systemic autoimmune rheumatic disease in Nigerians: a case series. African Journal of Rheumatology, 5(1), 34-37.
Collections