Absorbable suture materials for primary repair of episiotomy and second degree tears : RHL commentary . The WHO Reproductive Health Library; Geneva: World Health Organization.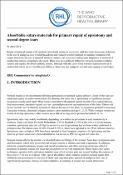 Publisher
WHO Reproductive Health Library
Abstract
Repair of perineal trauma with synthetic absorbable sutures is associated with less short-term pain, reduction in the use of analgesia, less wound breakdown and reduced need for perineal re-suturing compared with catgut. However, the use of standard synthetic sutures was associated with greater frequency of removal of unabsorbed sutures compared with catgut. There was no significant difference between standard synthetic sutures and rapidly absorbed synthetic sutures, although with the latter fewer women required removal of unabsorbed suture up to 3 months post delivery, there was less analgesic use and more gaping wound edges.