The role of multidisciplinary approach to managing endocrine hypertension: A case report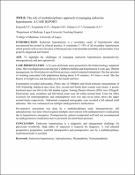 Publisher
Endocrinology and metabolism society of Nigeria
Abstract
INTRODUCTION: Endocrine hypertension is a secondary cause of hypertension often encountered but missed in clinical practice. It constitutes 5 -10% of all secondary hypertension which present with severe elevation of blood pressure with attendant morbidity and mortality if not properly diagnosed and treated. AIM: To highlight the challenges of managing endocrine hypertension preoperatively, intraoperatively and postoperatively. CASE PRESENTATION: A 52-year-old female nurse presented to the Endocrinology outpatient clinic. She was diagnosed as having type 2 diabetes mellitus and hypertension 6 years ago. Despite management, her blood glucose and blood pressure control remained suboptimal. She has episodes of sweating associated with palpitations lasting about 5-10 minutes, 4-5 times a week. She has a history of weight loss and paresthesia in her hands and feet. Examination revealed tachycardia, (Pulse rate of 106bpm) and blood pressure measurement of 160/110mmHg; displaced apex beat, first, second and fourth heart sounds were heard. A poorly localized mass was felt in the left lumbar region. Fasting Plasma Glucose (FPG) was 192mg/dl. Electrolytes, urea, creatinine and full blood count were all within normal limits. Urine for 24hrs excretion for normetanephrine and metanephrine were two and seven times above the upper normal limits respectively. An abdominal computed tomography scan revealed a left adrenal solid adenoma. She was commenced on multiple antihypertensive medications. The pre-operative assessment was done by a multidisciplinary team. Intraoperatively, left adrenalectomy was done which required multiple interventions with antihypertensive medications due to the hypertensive emergency. Postoperatively, the patient recuperated well and was recommenced on antihypertensive medication due to persistently elevated blood pressure. CONCLUSION: Endocrine hypertension is a diagnostic and management challenge for physicians worldwide. A high index of suspicion is required for diagnosis. A well planned preoperative preparation, watchful intraoperative and postoperative care by a multidisciplinary experienced team is essential.
Keywords
Endocrine hypertension
,
Adrenalectomy
,
Metanephrine
,
Normetanephrine
,
Research Subject Categories::MEDICINE
Citation
Enajeroh PJ, Fasanmade OO, Olopade OB, Odeniyi IA, Fasanmade OA. The role of multidisciplinary approach to managing endocrine hypertension: A case report. Abstract of presentation at EMSON 2017 conference.
Collections