Substance and alcohol utilization among commercial drivers and its interrelationship with road traffic accident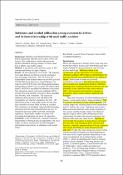 Abstract
Background: Substance and Alcohol abuse is a major public health issue that has taken a deep root in our society. This study aims to assess substance and alcohol utilization among commercial drivers and how it affects road traffic crashes. Methods: A descriptive cross-sectional study of 358 commercial drivers in Lagos, Nigeria. Results: All of the respondents were males. The majority were aged 40years and below; married and had at least secondary education. 212 (59.7%) of the respondents drove because there was no other job and 195 (54.5%) drove daily for at least 10 hours. The majority 282 (78.8%) knew that behavioural changes, mental illness 233 (65.1%), accident 232 (64.8%), and death 214 (59.8%) are effects of substance utilization. The substances most used were analgesics (76%), 105 (29.3%) used alcohol, 81 (22.6%) abuse cannabis and 36 (10%) took stimulants. The reason for substance abuse given by most (83.4%) of the respondents was that they wanted to feel fine. 149 (44.9%) have had a road traffic crash. Drivers who took cannabis are more likely to have an accident. The occurrence of accidents reduced with increasing education and the association between the level of education and road traffic crash was statistically significant. Road traffic crashes increased with increasing driving hours and years of experience. Conclusion: Level of education, cannabis utilization, and the number of driving hours are associated with road traffic accidents. The government should strengthen existing laws and policies on substance and alcohol abuse.
Keywords
Substance abuse
,
Substance utilization
,
alcohol utilization
,
commercial drivers
,
road traffic accident
,
Research Subject Categories::MEDICINE::Social medicine
Citation
Oridota S. E, Ashindoitiang M.A.U, Olatona F.A., Olajide T.O, Akanmu O.N, Soriyan O.O. Substance and alcohol utilization among commercial drivers and its interrelationship with road traffic accident. J Med Res Pract 2013;2(2):65-68.