Effect of Nursing Intervention on Knowledge of Diabetes Mellitus among Pregnant Women Attending Selected General Hospitals in Lagos, Nigeria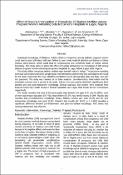 Publisher
Texila American University
Abstract
Inadequate knowledge of Diabetes mellitus (DM) in Pregnancy among diabetic pregnant women could lead to poor skill about self-care, failure to seek timely medical attention and failure to follow medical prescriptions, which could lead to complications and sometimes death of mother and/or fetus/baby. This study seeks to assess the effect of nursing intervention on Knowledge of DM among diabetic pregnant women attending two general hospitals in Lagos Island, Lagos State, Nigeria. This study utilizes one group pretest- posttest experimental research design. The purposive sampling technique and total enumeration sampling size method that included seventy-five participants were used for the study. Instrument for data collection consisted of seven demographic data and forty- two (42) test questions. The study was carried out in three sessions: pre-intervention, intervention and the evaluation sessions over a period of six weeks. Paired t test was used to determine significance level between pre and post-intervention knowledge. Ethical approval and consent were obtained from Babcock University Health Research Ethical committee and Lagos State Heath Service Commission respectively. The results revealed that most of the participants were between the ages of 21 and 45 (88%); most of them had tertiary education (70.7%); most of them (57.3%) had family history of DM. Results also revealed that pre-intervention knowledge among diabetic women was poor (0.28) and the post intervention knowledge was good (0.83). Paired t test results (t= 36.20, p = 0.000) revealed a significant difference between pre-intervention and post-intervention knowledge. This shows that nursing intervention was effective.
Keywords
Intervention
,
Diabetes mellitus (DM)
,
General hospitals
,
Pregnancy
,
Research Subject Categories::MEDICINE
Citation
Ademuyiwa, I.Y., Abiodun, T.R., Owopetu, C.A. & Sowunmi, C.O. (2020). Effect of Nursing Intervention on Knowledge of Diabetes Mellitus among Pregnant Women Attending Selected General Hospitals in Lagos, Nigeria. Texila International Journal of Nursing, 1(2)72-82.
Collections