The Role of Genetics in the Aetiology of Diabetes Mellitus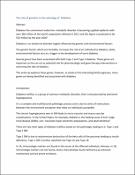 Publisher
Obafemi Awolowo University Medical Student's Association (IFEMED)
Abstract
Diabetes the commonest endocrine- metabolic disorder is becoming a global epidemic with over 366 million of the world's population affected in 2011 and this figure is projected to be 552 million by the year 20301 Diabetes is an endocrine disorder hugely influenced by genetic and environmental factors The genetic factors which are heritable, increases the risk of an individual to diabetes, while, environmental factors acts as a trigger in the development of overt diabetes Several genes have been associated with both Type 1 and Type 2 diabetes. These genes are important as the can act as potential site for pharmacologic and gene therapy interventions in stemming the tide of diabetes. This write up explores these genes, however, as study in this interesting field progresses, more genes are being identified and associated with diabetes.
Keywords
Diabetes
,
Genes
,
Aetiology
,
Research Subject Categories::MEDICINE
,
Endocrine-metabolic disorder
Citation
Enesi I, Fasanmade O. (2014). The Role of Genetics in the Aetiology of Diabetes Mellitus. Journal of the Obafemi Awolowo University Medical Student's Association (IFEMED), 19(1), 9-11.
Collections