The Relevance of Advertising to the Teaching of English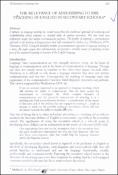 Abstract
Emphasis on language teaching has moved away from the traditional approach of composing and comprehending correct sentences as isolated units of random ocurence.
Keywords
Use of Language
,
Teaching
,
English Language
,
Communicative Approach
Citation
Adedun, E.A (2007) The Relevance of Advertising to the Teaching of English. Literature and Language: A Drama of Life, L agos: B Print, University of Lagos, Nigeria, pp.211 - 216.
Collections