Genotoxicity of Momordica charantia Extract in Swiss Albino Mice (Mus musculus)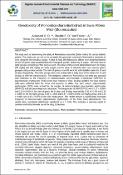 Publisher
Nigerian Journal of Environmental Sciences and Technology (NIJEST)
Abstract
The study aims at determining the safety of Momordica charantia (Bitter melon) for use by diabetic patient. This study was carried out to ascertain the genotoxic potential of Momordica charantia in mice using the micronucleus assays. A total of forty (40) laboratory albino mice weighing between 20 and 25 grams were obtained from the Zoological garden, University of Lagos. The mice were in eight groups comprising of five animals each. The doses of the extract administered were 50 mg/kg, 100 mg/kg and 150 mg/kg per body weight and the route of administration was oral by gastric gavages using a metal canula. The control groups A and B were fed with distilled water for 14 and 8 days respectively. The other groups were also treated with a daily dose of the extract for 14 and 28 days at different concentrations. The mutagenic potential of Momordica charantia was assessed with reference to the frequency of micronucleated polychromatic erythrocytes (MNPCE) in polychromatic erythrocytes (PCE) in the bone marrow of mice. During sacrifice, the bone marrow cells were collected from the femur and smeared on slides. For each mouse, polychromatic erythrocytes (PCE) were scored for the number of micronucleated polychromatic erythrocytes (MNPCE) and the percentage was calculated. The frequencies of MNPCE/PCE were 0.17 ± 0.09% and 0.13 ± 0.02% in the control group for 14 days and 28 days respectively, 0.33 ± 0.12% and 0.30 ± 0.08% in the 50 mg/kg group, 0.38 ± 0.06% and 0.34 ± 0.09% in the 100 mg/kg group, and 0.24 ± 0.08% and 0.35 ± 0.05% in the 150 mg/kg group. The results showed a significantly increased frequency of micronucleated polychromatic erythrocytes for the three doses administered. The results were considered statistically significant at p < 0.05. This indicates a warning signal to careless and indiscriminate use of the drug by humans.
Keywords
Genotoxicity
,
Micronucleus
,
Extract
,
Polychromatic Erythrocytes
,
Research Subject Categories::NATURAL SCIENCES
Citation
Adewumi, O.O, Oladele E.O and Taiwo I.A. (2019): "Genotoxicity of Momordica charantia L. Extract in Swiss Albino Mice (Mus musculus)''. Nigerian Journal of Environmental Sciences and Technology (NIJEST). Uniben : Vol.3(1). 62-68pp.
Collections