Breastfeeding practices of mothers of young children in Lagos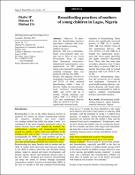 Publisher
Nigerian Journal of Paediatrics
Abstract
Objective: To determine the breastfeeding practices (prevalence, initiation and exclusivity) of mothers of young children in Lagos. Methods: This was a community-based, cross-sectional study carried out in 2010 in two Local Government Areas of Lagos State. Structured, interviewer-administered questionnaires were administered on 600 mothers whom were selected by multistage sampling technique. Data was analyzed with Epi-info 2008. Results: The majority, (91.8%) of respondents breastfed their babies and 59.2% of them initiated breastfeeding within 1 hour of delivery. Eighty-two percent practiced exclusive breastfeeding (EBF) and 52.9% did for 6 months. Formal antenatal care (ANC) (OR 3.27, 95%CI 2.03-5.29) and iinstitutional delivery (OR 3.63, 95%CI 2.38-5.53) significantly increased early initiation of breastfeeding. These factors also significantly increased practice of EBF for 6 months; ANC- OR 2.54, 95%CI 1.49-4.35 and institutional delivery- OR 1.81, 95%CI 1.15-2.86. EBF for 6 months was significantly associated with lower parity (p=0.020) and higher maternal educational level. Those who had more than secondary education were 8 times more likely to practice EBF for 6 months than those with no formal education (OR 7.65, 95%CI 2.58- 24.28). Conclusion: Breastfeeding initiation and exclusivity for 6 months were inadequate. Promotion of good health-seeking behavior, maternal education and family planning are recommended in order to improve mothers' breastfeeding practices and infant nutrition.
Keywords
Breastfeeding
,
Breastfeeding practices
,
mothers of young children
,
Lagos
,
Research Subject Categories::MEDICINE
Citation
Okafor I.P, Olatona F.A, Olajumoke A Olufemi. Breastfeeding practices of mothers of young children in Lagos. Niger J Paed. 2014; 41 (1):43 – 47.