Comparative Studies on Safety of Glimepiride and Glipizide on Renal Microarchitecture and Oxidative Stress Markers of Pregnant Streptozotocin-Induced Diabetic Wistar Rats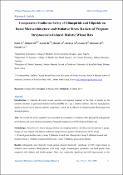 Abstract
Introduction: A relatively decreased insulin secretion and impaired response of the body to insulin are the common attributes of gestational diabetes mellitus (GDM) and Type 2 diabetes mellitus. The oral hypoglycemic agents are less invasive, improve patients' compliance, which can be effective in maintaining the blood sugar level during pregnancy. Aim: The overall aim of this research was to ascertain the comparative evaluation of the glimepiride and glipizide on the kidney and some maternal parameters of pregnant streptozotocin (STZ)-induced diabetic rats. Methodology: Thirty-five (35) female Sprague-Dawley rats weighing between 120-160 g were divided into 5 groups. Groups 2-5 were induced with diabetes mellitus by intraperitoneal injection of streptozotocin (STZ). Group 1: (Control given distilled water), Group 2: (Diabetic treated with Glimepiride), Group 3: (Diabetic treated with Insulin), Group 4: (Diabetic treated with Glipizide), Group 5: (Diabetic given citrate buffer). Results: Glimepiride and Glipizide treated groups showed statistically significant (p=0.05) improvement in oxidative stress markers, blood glucose level, body weight, hematological parameters and lipid profile when compared with diabetic and insulin groups. There was statistically significant (p=0.05) improvement on the oxidative stress marker, body weight and the restorative effect on renal histology in the group treated glimepiride when compared with glipizide and diabetic groups. Conclusion: This work has demonstrated that the two oral hypoglycaemic agents were effective in controlling glucose intolerance during pregnancy, renal oxidative stress as well as cytoarchitectonic properties of the kidney comparable with insulin. Therefore, because of its ameliorative and restorative effects on renal oxidative stress and micro-architectonic properties of the kidney, glimepiride could be tempting alternative drug of choice for adequate control of glucose intolerance during pregnancy.
Keywords
Gestational diabetes mellitus
,
Pancreas
,
Kidney
,
Glipizide
,
Research Subject Categories::MEDICINE
Citation
Esubi JU, Olojede SO, Lawal SK, Medubi LJ, Adekoya AJ, Dauda FF, Olusegun AP, Osinubi AA. Comparative Studies on Safety of Glimepiride and Glipizide on Renal Microarchitecture and Oxidative Stress Markers of Pregnant Streptozotocin-Induced Diabetic Wistar Rats. J Pharm Pharmacol Res. 2019;3(1):003-018.
Collections