Factors Influencing Female Enrolment in Science Education Programmes in Distance Learning Institutions in South-West, Nigeria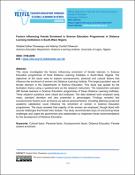 Publisher
Teacher Education Through Flexible Learning in Africa
Abstract
This study investigated the factors influencing enrolment of female learners in Science Education programmes of three Distance Learning Institutes in South-West, Nigeria. The objectives of the study were to explore socioeconomic, personal and cultural factors that influence the enrolment of women into Distance Learning Institute. The target population was all female learners in the Departments of Science Education. This study was guided by the facilitation theory using a questionnaire as the research instrument. The researchers sampled 280 female learners in Science Education programmes of these Distance Learning Institutes. Three research questions were raised and analysed. The data obtained were analysed using mean, standard deviation and also presented in percentages. Findings revealed that socioeconomic factors such as finance as well as personal factors, including attaining social and academic satisfaction could influence the enrolment of women in Science Education programmes. The study revealed that majority of the women are employed, though faced with several challenges that hinder their studies. The study recommended ways of overcoming these challenges and urged the government and stakeholders to implement these recommendations for the development of Distance Education.
Keywords
Cultural factor
,
Personal factor
,
Socioeconomic factor
,
Distance Education
,
Female student enrolment
,
Research Subject Categories::SOCIAL SCIENCES::Social sciences::Education
Citation
Oladele Esther Oluwasayo and Adeniyi Comfort Olawumi (2020). Factors Influencing Female Enrolment in Science Education Programmes in Distance Learning Institutions in South-West, Nigeria, TETFLE Journal, Official publication of the Unit for Distance Education, Faculty of Education University of Pretoria Volume 2:113-127.
Collections