The Feminist Ambivalence In Africa Dramas: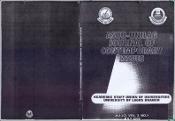 Abstract
African women have relentlessly expressed their predicament within the framework of African traditional culture as oppressive and hence unacceptable. Literature has proved to be one of the forms through which their collective aspiration for equity and justice is being constructively expressed within a literary ideology commonly known as Feminism. Many Nigerian literary artists like - Buchi Emecheta, Flora Nwapa, Zulu Sofola, Tess Onwueme, Akachi Adimora-Ezeigbo, Stella Oyedepo, etc have in various ways articulated the oppressive condition of women .in the context of the Nigerian environment. In all, African feminist literary critics have identified some forms of representation that distort the African conception of feminist ideology. This paper offers a critical examination of some of the distortions in the dramatization of feminist ideals in Nigerian theatre. How do Nigerian female playwrights envisage the issue of feminist oppression and liberation within the context of Nigerian traditional culture? To answer the above question, the role of the female protagonists in Tess Onwueme's two plays: Ona in The Broken Calabash and Wazobia in The Reign of Wazobia, are critically analysed. A close examination of the plays reveals Tess Onwueme's ambivalence to some key feminist principles, and this is deduced from the ambiguous relationship between concern and dramaturgy or theme and technique as well as intention and its realization.
Citation
Ezenwanebe,O.C.(2008) The Feminist Ambivalence In Africa Dramas: The Case of The Empowered Women In Tess Onwueme's Two Plays. ASUU-UNILAG Journal Of Contemporary Issues,vol.3,(1).
Collections